Swedish rents on average were raised by 531% in 10 years.
I've previously written about the extreme differences between rich and poor in Sweden, and how the gap between them are widening1.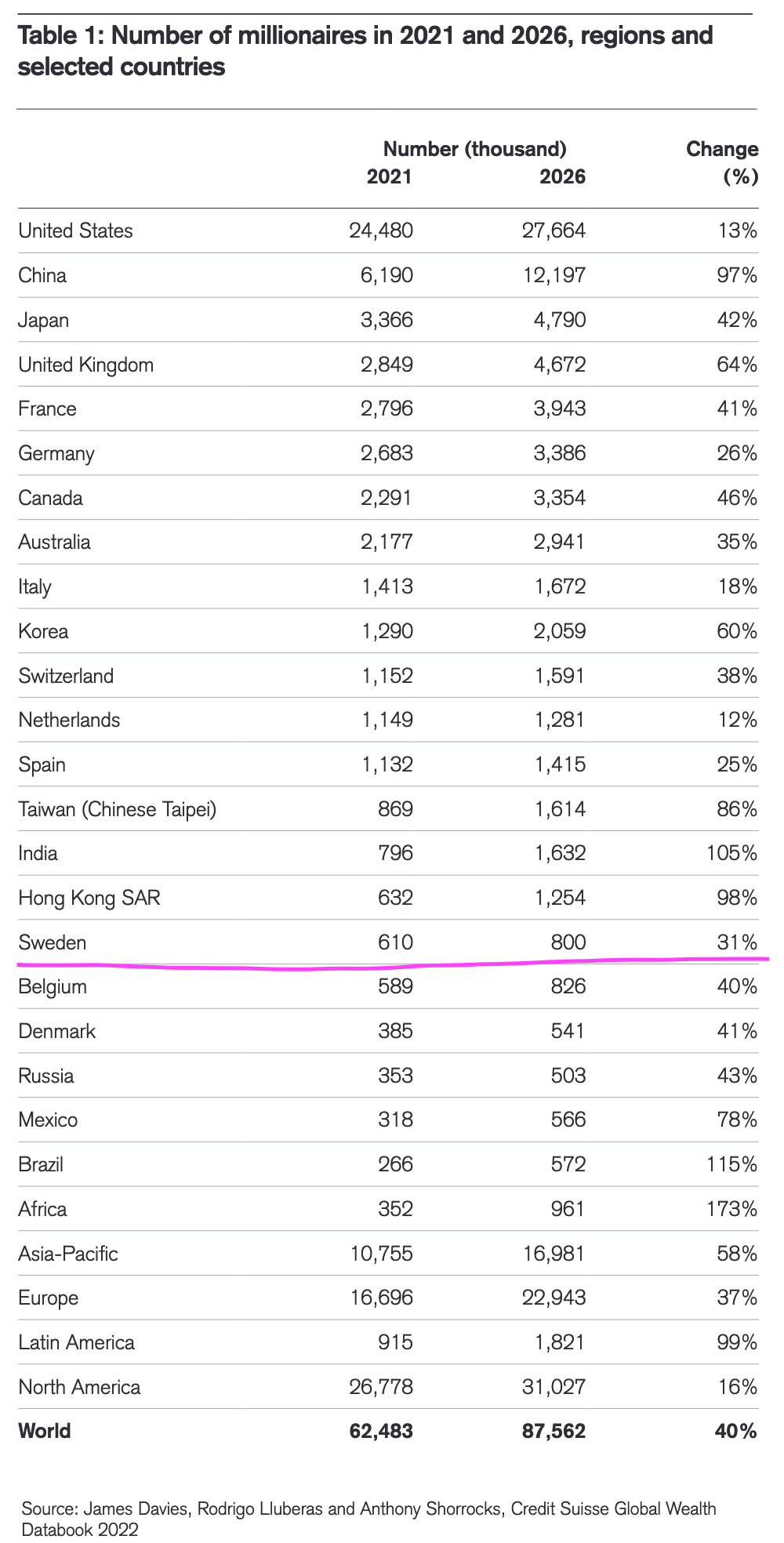 The table, from the latest Global Wealth Report from Credit Suisse2, shows how the number of Swedish USD millionnaires will grow by 31% in five years.
This doesn't indicate that Swedes, altogether, are getting wealthier. It means that a very select number of individuals will benefit enormously while the rest will work for piffles in comparison with ultra-wealth.
In 1992, Fredrik Lundberg was the third-richest Swede. Today, his wealth at that time wouldn't be enough to list him among the 170 richest Swedes.
What I'm trying to say is this: the richest Swedes are getting richer while the poor are getting poorer. And the gap is widening.
Oxfam place Sweden at the very top of the list of Nordic countries based on economic inequality3:
Sweden is getting worse and worse at fighting economic inequality, according to a report from Oxfam, among others. Over the last two years, the country has dropped ten places on the organisation's global index, and is now lowest in the Nordic region.
The greed of private property landlords gets worse
In Sweden, many rent the apartment in which they live.
It's been a reliable way of living for decades, ever since the social democrats started building the 'people's home' in the 1950s. Every person deserved an affordable home, and got that. Rentable apartments were built, people moved in, and things worked out.
A few decades later, liberalism came, and swept people up in the idea of voting for selling off the people's home; privately owned capitalist companies took over and started buying apartment complexes, often resulting in uninhabitable environments that somehow were lived-in by poor people who couldn't afford anything else.
Prices started soaring.
Due to a loophole in Swedish law, privately owned companies can 'renovate' apartments and then raise the monthly rent by thousands of Swedish crowns (hundreds of Euro). A renovation could be swapping a microwave oven for a new one, or installing a new fridge, and suddenly people pay thousands of Swedish crowns (hundreds of euro) more per month. Raising the rent with 40% (or more) became commonplace for privately owned landlord companies.
Swedish TV have just revealed that some of the biggest privately owned property owners want to increase the cost of renting an apartment by 10%4.
They made profits over 37% from collecting rent money in 2021. Now, they want to increase the cost of living by 10%, in the middle of inflation for regular people, while they rake in billions of Swedish crowns every year. They don't need to do marketing. They buy second-hand apartments cheaply and refurbish them for far less.
People will starve because of this. Families will be forced to move due to this. Some people will become homeless because of this. All in the middle of the cold Swedish winter.
The companies Heimstaden, Rikshem, Wallenstam, and Balder own around 100,000 apartments in Sweden. They should all live in infamy for this.
Know that the cost of interest paid by these companies is very low. In 2021, they paid around 1.5% interest on their own loans.
A cleaner in Stockholm, earning 21,000 crowns per month, pays 21% in tax.
Martin Lorentzon, who owns 50 billion crowns in Spotify stocks, pays 13% in tax.