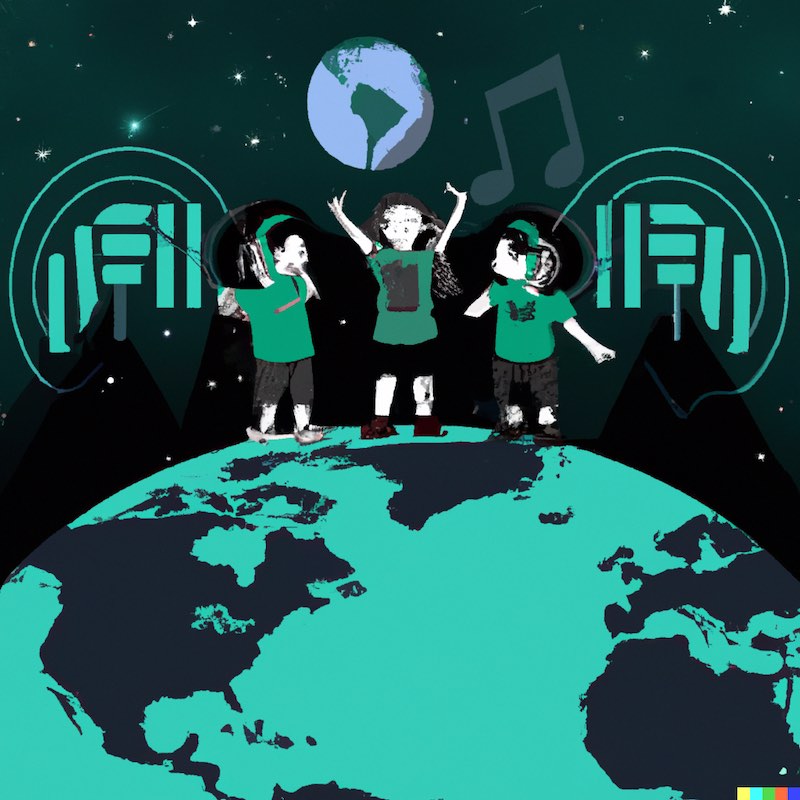 Dall-E interpretation of 'Humans on planet Earth discovering new music for the first time.'
Diamanda Galás - Broken Gargoyles
Diamanda's voice is not only an instrument. She wields it like a weapon, like a caress, like the truth, and she does this extremely well. She's capable of doing anything and is yet controlled. This new album consists of two parts. The first one starts with a deep rumble from piano and electronic treatment and then expands through Diamanda's one-tone voice that goes slightly guttural and then back to the tonal, as more bass sounds and more layers of her voice are added, Ligeti style.
After three minutes, Diamanda starts speaking, entonating poems of Georg Heym. She commands spoken word along with the piano in ways that deserve much attention. Her way of pronouncing words, of delivering her music, only makes me think of Blixa Bargeld, frontperson of Einstürzende Neubauten.
Her soprano singing is beautiful, harrowing, and unique.
There's nobody like Diamanda. Only six–and–a–half minute in, her voice is garbled and gargled forth, clearly the work of an artist that cares about music rather than putting herself first.
Civilistjävel! - Järnnätter
Ambient-like musique concrete coming your way. This is all very low-fi, with most treble cut away. Hypnotic, slowly grinding, nearly proto-guttural synth sounds with the occasional synth sweeps coming in.
After around a minute, each track starts building in some way. This is interesting music that works when working, when laying in your bed trying to drift away, and I guess it would make for a wonderous sensory overload if heard when played live.
Jon Natchez - Luzzu (Original Motion Picture Soundtrack)
This album carries a lot of space. There's atmosphere from where instruments are left to expand. The recording sessions must have been carried out with care, which shows in the recordings. Flutes mix with acoustic percussion, slowly played strings, nylon guitars… I'm strangely reminded of John Barry's soundtrack for The Dove, which is far less subtle and a completely different world altogether compared with this album.
The listener is often left with a nitrous–oxide type of effect, where instruments pale off into the air at the end of a track. The synths are welcome, as in track 'The Foreign Chill', arpeggio and all.
Most songs on this soundtrack are short and dramatic. This is a nice break from soundtracks that are shaped by Hans Zimmer and Cliff Martinez.
Teodoro Baù, Andrea Buccarella - Arcangelo Corelli: Sonatas for Viola da Gamba & Continuo
Viola da Gamba is a special instrument, one that Buccarella plays with force and aplomb. Corelli's sonata model conquered musical Europe in the eighteenth century, according to the booklet. Here's what Wikipedia says about Corelli's model:
In his work there is an abundance of polyphonic expressive forms, the fugati, simple counterpoints and imitative writings, with themes that are repeated in succession by the various voices alternately, usually also called fugues, but in his style authentic fugues are rare, as his development differs from conventional models because of form, exhibiting a wide variety of solutions. According to Pincherle, one of the most significant aspects of Corelli's genius lies in the coordinated movement of these voices that intertwine, avoid each other and find themselves in such a way as to develop ever-changing motifs, establishing a unity through the motivic kinship of the different movements, a method which Fausto Torrefranca compared to the creation of "a frieze that runs along the walls and facades of a temple".
Baù plays harpsichord expressively, but, to me, the splendour lies with the viola da gamba.
Even though this album carries a lot of space for musicians, I wish it would have been more tightly produced to push the music closer to the ear.
Alva Noto & Ryuichi Sakamoto - Revep (Remaster)
I am very grateful not only to discover the recent slew of remasters from these wonderful composers and performers, but to know that they're still working on stuff. Both are, in their own rights, admirable and pushing boundaries of modern composition.
This remastered version of Revep was released in August of 2022, and carries a few extra songs.
Glitch, piano, timbre.
The album is a playful mise en place that could have, in untalented hands, gone frightfully wrong, but is instead lovely to listen to. It's not easy listening. It is, however, truly rewarding.
Om Unit - Acid Dub Studies II
This is a brilliant take on dub paired with the Roland TB-303. Some tracks are a bit dull, but others, like 'Acid Tempo', remind me both of why I love electronic music and dub.
Various artists - mono no aware
A lovely compilation of ambient music, there's very little filler and more killer.
Pocket Pavilions - Gondolas Traversing Lofty Peaks
Swedish musician Daniel Högberg has created a playful album filled with analogue sounds and melodic songs that go from bouncy 1970s styles to ambient and bossanova drives. This is unexpectedly likeable and enjoyable; it could easily have become a retro nightmare but instead went the right way.
J. Rocc - A Wonderful Letter
Laid-back and inventive hip-hop that brings beats to the people, this is looking back to times when people made hip-hop fun, and J. Rocc continues in that same vein. Songs like 'Pajama Party (feat. The Egyptian Lover)' are pure fun to listen to.
Ben Salisbury and Geoff Barrow - Archive 81 (Soundtrack From The Netflix Series)
This is an album that will undoubtedly make less of a dent than the duo's brilliant soundtrack for Devs.
Here, you'll get soundscapes of shrill monotones that intermingle with human voices, repeating the Salisbury/Barrow formula as they also did with Men.
I like the more guttural sounds, as with human breathing; also, some of the more organ-y instrument elements play out nicely, as in 'Stay Out'.
Sarah Davachi - Two Sisters
Davachi is one of my favourite modern musicians. This is a new and hypnotic ambient album that consists mostly of pipe organs and drone music. It's really good as morning background work music. Nearly hymnal, Godly music.
Preoccupations - Arrangements
Reminiscent of Joy Division and The Fall, this lot are different than that; I can't say I remember any songs but the sense of this effervescent indie–rock album remains.
The Jaffa Kid - Second Frequencies
I thought of Orbital when I turned this album on, with some old–school electronic beats, early 1990s style. This is a nice EP with different flavours.
Fennesz - Szampler
This is a one–hour recording that was initially available only on cassette tape. It was remastered by Fennesz and re-released in 2021.
It's a wild mixture of glitch electronics and guitar picks. Interesting to have as background music but I'd not go along with this for longer.
Most of Fennesz's stuff that I've heard that's made after this album is far more interesting and very worth listening to.
Luca Yupanqui - Conversations
In 2021, Yupanqui became possibly the youngest artist ever to release an album; her parents recorded Yupanqui in utero via electrodes.
This album consists of remixes of songs on the debut album. It's fairly new–agey; every song is remixed by a different person.
Coby Sey - Conduit
I've never before heard Coby Sey, but this is really exciting, refreshing, and modern UK rap! I need to start looking more into UK rap considering how much I enjoy sprawling artists like Sey, Dave, and even artists that somehow touch on rap, like Sleaford Mods.
I'm buying this album.
Second Woman - Instant / Apart
Deep–thumping bass set to incongruent electronic sounds makes for a varied yet strangely minimalist listening experience. Alluring techno.
Visio - Privacy Angels
Flowing ambient sounds paired with screeching noise rarely works for me, but Visio has done a fair job. I like the guitars that flow throughout a few tracks, even though their multi–layering doesn't always work for me.
Affiliate Links - Enough Light
Melodic, gloomy, and symphonic, a mix of Hefner and The Divine Comedy. There's some glimmering pop sensibilities in here, enough to lure me back for (at least) a second listen.
Fennesz and Ryuichi Sakamoto - Cendre
Laptops and pianos: two modern composers touch base with a low–fi hum in the background.
This is a lovely album that has more going for it than one might imagine.
Herva - Seez
Some standard Planet Mu stuff: glitchy electronics that drive people either insane or up their ears with inspiration.
The Black Angels - Wilderness of Mirrors
Austin, TX crew give it up again: another album with heavy fuzz set to rhythm and an album cover to make your eyes go WTF. Melodics are still in place, albeit not as much as on previous albums. Still good to occasionally head-bang to.
Horace Andy - Midnight Scorchers
Some banging music to follow up on his Midnight Rocker album that was released just a few months back, this is basically a fine showcase for Andy's unique voice, Adrian Sherwood's On–U sounds, and for dub reggae to come back into my life.
Cosey Fanni Tutti - Delia Derbyshire: The Myths And The Legendary Tapes
Brilliant soundtrack that highlights the legacy and immense inspiration provided by Delia Derbyshire, Cosey's really caught her gist to deliver this, a fantastic soundtrack to highlight the 2022 documentary on Derbyshire's life as the electronic–music pioneer that she was.
Don't miss Cosey's book that kind of accompanies this soundtrack, Re-Sisters: The Lives and Recordings of Delia Derbyshire, Margery Kempe and Cosey Fanni Tutti.
Various artists - Amapiano Now
This is a lovely compilation of current South African underground music, mainly electronic and dancey in form. Amapiano is a South African amalgam of deep house, jazz, and lounge music. Some weird shit that's really fun and innovative.
Lou Reed - Words & Music, May 1965
Demos of some of Reed's earliest songs reveal how Dylan-ish his compositions were. They also reveal what a wondrous songwriter Reed was from the get go. Some of these songs are included on the Velvet Underground's debut album, and they offer a unique view into how Reed wrote and developed songs together with the rest of the band.
More info: Laurie Anderson on Lou Reed's lost demo tape: 'He really wasn't that interested in his past'
Gloria de Oliveira and Dean Hurley - Oceans of Time
Orchestral music that's reminiscent to the 'Twin Peaks' soundtrack mixed with de Oliveira's voice; her voice isn't far from that of Elizabeth Fraser (Sun's Signature, Cocteau Twins). I thought Hurley's music reminded me of David Lynch's music and then read up: he's operated and managed Lynch's studio for roughly fourteen years.
Fairly 1990s, this album.
Suede - Autofiction
I didn't think I'd say this, but Suede have just released their best album in 30 years.
This album is far less orchestra and reverb than anything they've ever done, more punk, more feet-to-the-floor than anything.
The first song, 'She Still Leads Me On', could be a love song but is really about Anderson's dead mother.
While a couple of tracks on this album could have been left on the cutting–room floor, most of them live on and leave a wondrous imprint.
This is a surprisingly strong album, one that leaves me eagerly awaiting their next album.
It's hard to leave this album alone for just a few spins.
Editors - EBM
Their collaboration with John Benjamin Power, a.k.a. Blanck Mass, proved such a success that not only were Editors' sound refreshed, but in Power joining Editors, hence the album title.
There are several songs on this album that deserve accolades, not only for Power's ability to produce haunting sounds but also in Tom Smith's deep voice, reminiscent of that of David Gahan, lead singer of Depeche Mode.
Iceage - Shake the Feeling: Outtakes & Rarities 2015–2021
It's somewhat hard to feel that this compilation is an album of misfits, simply because it feels both refreshing and inventive in ways that many other bands have a hard time to keep up with.
The songs offer a wide variety of numbers, ranging from the calm to the mischevious, to demo tracks and finished tunes that could be on any final Iceage album.
Guerilla Toss - Famously Alive
A product of the pandemic, Famously Alive makes up for its name: this is vibrant and effervescent music that deserves repeated listens. This trio have made something that digs deep in the cachets of motorik and have designed a minimalistic yet hyperkinetic sound that seems to work exactly in their favour. Think CSS mixed with Crystal Castles and you might get an idea, but add more band dynamics rather than just studio fiddling.
Guerilla Toss - Jackie's Daughter
This is an earlier album than the above, but still keeping things mixed up, in a good way.
Björk - Fossora
Björk is an institution in herself. She's gone to many different places and continues to do so. Her broken–assed Icelandic is mixed with brutal jazz, electronic floes, guttural gabber, and seemingly effortless yet beauteous song.
Fujiya & Miyagi - Slight Variations
Brighton–based band with motorik tendencies—just listen to track 'Non-essential Worker' to see what I mean—this is a collection of tracks that make me recall XTC, Neu!, Chris & Cosey, and Talking Heads.